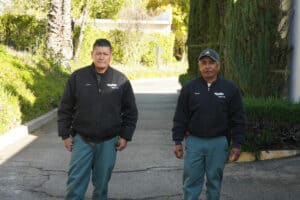 At MPTF, we salute those who maintain our planet while conserving the resources we need for the future. Nowhere is that more evident than our Landscaping team who work hard every day keeping our grounds safe, healthy, and beautiful. In honor of Earth Day, the crew celebrates with a celebratory lunch together – and they've certainly earned it! Gustavo Loera and Narciso Madrigal from the crew filled us in on what's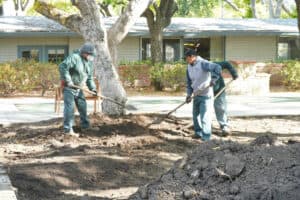 happening on campus, where they make sure everything is trimmed, free of weeds, and safe for senior residents to walk across, while also creating a beautiful tranquil environment for everyone at MPTF.
Despite all the heavy rain recently, their work is dedicated to saving as much water as possible. One method is the installation of a drip irrigation system underground that's more efficient than sprinklers, as well as either replacing grass with native plantings (over 100,000 square feet) or using grass that consumes the least amount of resources. Right now they're undertaking a new project, the creation of a Memorial Garden to honor, among many those we lost during Covid-19, and you'll be seeing more about its progress in the future. From the beloved Koi pond near our entrance to the amazing topiary animals across our campus, we're so grateful to all of our landscaping staff for being here every day to make our world a better place.