Independent and
Assisted Living
COTTAGES, THE VILLA, AND A LODGE
Independent and Assisted Living
COTTAGES, THE VILLA, AND A LODGE
LIVE NESTLED IN THE SPRAWLING WASSERMAN CAMPUS
For most people, independence is a highly prized quality of life. That's why we work hard to honor every person's need for independence and freedom in their retirement living on the MPTF campus. We support a wide range of ways for our residents to engage in quality activities for mind, body and soul. We provide the best tools for each person to pursue their own personal version of a happy and healthy life. And we stay flexible for when things might need to change down the road. When and if additional support is needed, we're here to help with a broad continuum of care.
Following are the three optional living spaces on the MPTF Wasserman Campus specifically for independent and assisted living.
MPTF began welcoming residents to its campus in 1942 with the opening of the Country House. In an effort to keep pace with the need, we've added units and amenities ever since.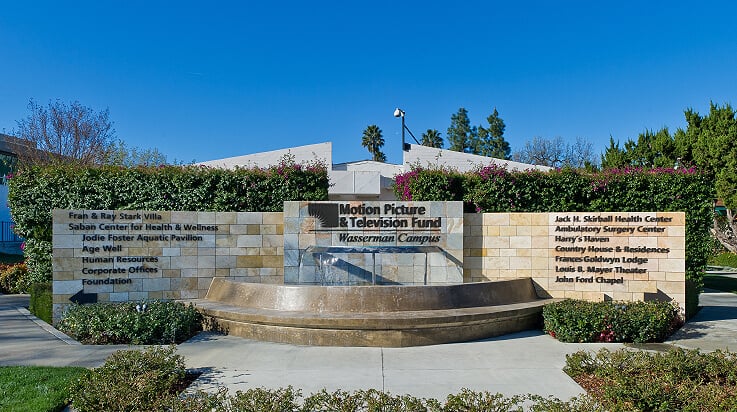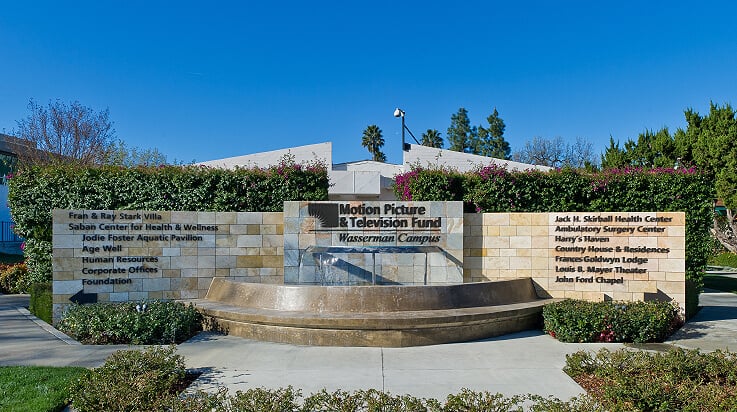 MPTF began welcoming residents to its campus in 1942 with the opening of the Country House. In an effort to keep pace with the need, we've added units and amenities ever since.
There are 60 free-standing Country House Garden Cottages for our independent living residents. The Cottages are one-story units that offer a variety of floor plans from studios to single bedroom units with kitchens located in the heart of the campus. Cottage residents can choose the Country House dining room for convenience.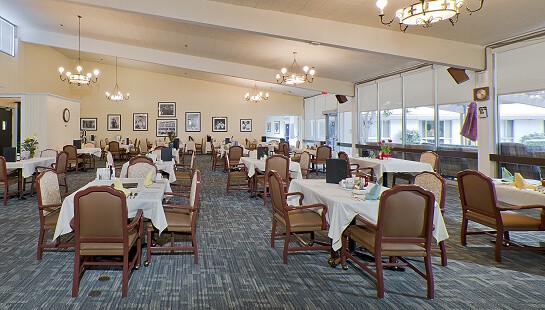 A Place at the Table
Comfort, service, and delicious food. Country House dining at its finest.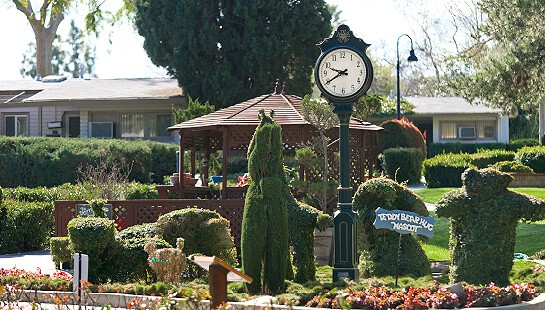 Heart of Campus
Surprise and delight around every corner.
The three-story apartment-style accommodations for both independent and assisted living offer studio and single bedroom layouts for individuals and couples surrounded by the Roddy McDowall Rose Garden, landscaped lawns, a koi pond and a community garden. New residents can select from three floors of living with elevator access, some with excellent views, close to amenities, programs, and events. Residents can choose the Villa dining room for restaurant-style dining and convenience.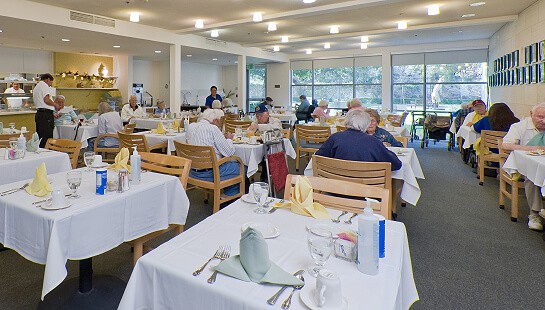 Delicious Dining
Just one of the beautiful spaces on campus to gather and share a meal.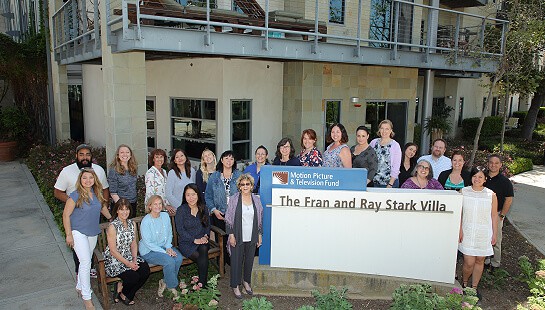 It Takes a Village
The Wasserman Foundation and their generous endowment keep the grounds immaculately groomed.
If these walls could talk, they would reveal many legends of Hollywood who have called this place home. Cozy studios in a single story building with patio gardens serve primarily assisted living residents. Residents can choose the Lodge dining room with wait staff for convenience.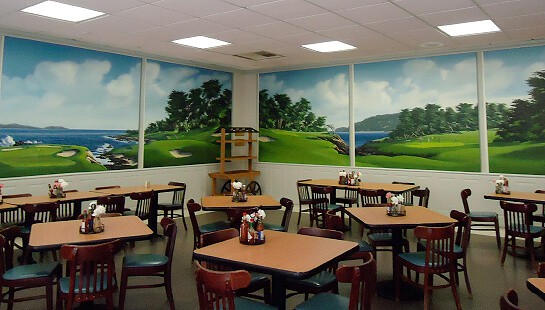 Let's Eat!
The Heartbeat Cafe is just one yummy option of many to enjoy a meal among friends.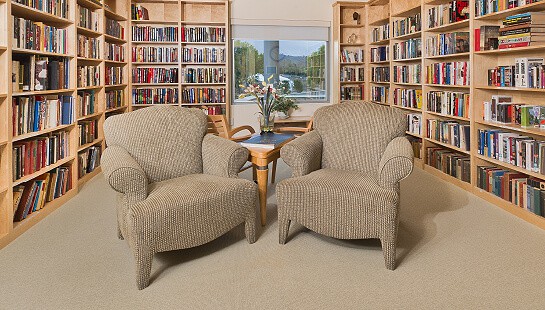 Learning's Alive
We encourage every resident to learn, discover, and engage.
A variety of apartment styles, studio and single bedroom layouts
Kitchenettes in most units includes microwave and refrigerator
Elegant dining room for each area of campus
Exercise and fitness rooms
Modern activity rooms with sewing and crafts
Community garden with fully equipped greenhouse
Contemporary activity centers
Spacious lounges for gathering
We take good care of all our residents, even our furry, four-legged ones.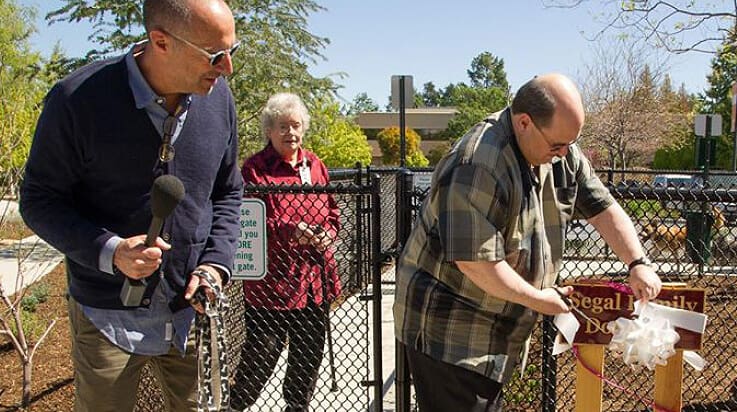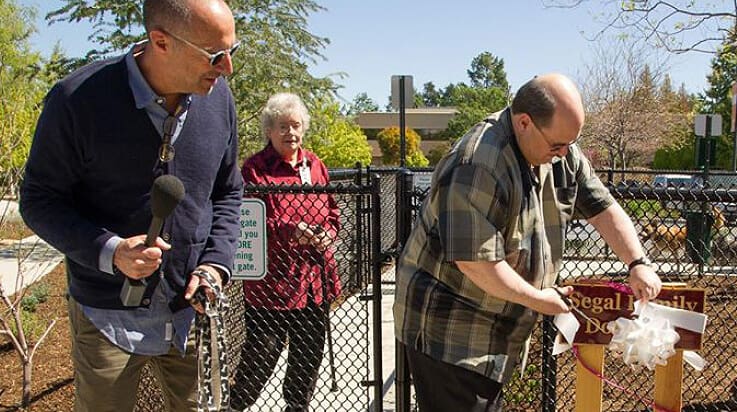 We take good care of all our residents, even our furry, four-legged ones.
Choice of menu at each of the three meals
All utilities including basic cable TV and basic telephone services
Weekly housekeeping and bed linen service
Scheduled local transportation to events, appointments, activities, and shopping
Planned entertainment activities, trips and programs
Concierge desk for help with prescription refills, sick tray service, and any questions
24 hour security on campus with security guard at front gate
Louis B. Mayer Theater, a 250-seat theater showing first-run films
MPTF Studios production suite for residents to continue to grow their talents
Acres of walking paths with manicured lawns, gardens, and a koi pond
State of the art gym facilities including the Jodie Foster Aquatic Pavilion, with swimming and exercise classes; see more>
Spacious lounge with pool table, fireplace, piano, and card tables
Extensive library with computers, internet access, and a reading nook
Modern entertainment area for bingo and watching big screen television
Secure fenced dog park for our four-legged residents
Minivans and buses with drivers for planned trips to nearby towns, events, theater, appointments and activities
Chapel for non-denominational services
Pharmacy
Clothing and accessories boutique
These personalized services are offered at an additional charge.
Assistance with bathing, dressing, and hygiene
Medication management
Hair salon services and spa
Dry cleaning delivery service
On-site seamstress
Beaches and canyons are just a short car ride away. Visit breathtaking Malibu canyon in one direction, and the popular beach communities of Malibu and Santa Monica in the other.
A modern neighborhood shopping center, wide variety of restaurants and coffee shops, movie theaters, grocery and drug stores, banks, and a range of services (including shoe repair, copy center, and dry cleaners) are all located within a half-mile radius of the campus.
Various hotel accommodations are a comfortable walking distance or quick drive from campus for visiting friends and family.
The country-like setting provides easy access to surrounding cities of Woodland Hills and Calabasas with its quaint, historic "old town."
On Saturdays, visit nearby Calabasas Farmer's Market or the Leonis Adobe, a historical landmark.
For anyone considering independent or assisted residential living, please call. A friendly social worker can offer pricing information, schedule a personal tour, answer any questions, and add a name to the waiting list.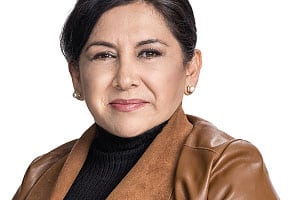 Lorena Soria, RN, BSN
Director, Residential Living
Lorena oversees all aspects of the residential living community by providing a holistic approach–caring for the body, mind, and spirit–and respecting individuality and independence.
Lorena.Soria@MPTF.com