LODGING AND CARE FOR PEOPLE WITH
ALZHEIMER'S AND DEMENTIA
LODGING AND CARE FOR PEOPLE WITH ALZHEIMER'S AND DEMENTIA
Harry's Haven is a specialized, secure unit of MPTF devoted to best-in-class care and the well being of entertainment industry members with Alzheimer's and other dementia-related conditions. It occupies a quiet, verdant corner of the Wasserman Campus and accommodates 40 residents.
Harry's Haven is a special place funded by a gift from Kirk and Anne Douglas and named in memory of Kirk Douglas' father, Herschel Danielovitch—"Harry". Harry's Haven's foyer, reached by a secured elevator, is decorated with framed, autographed posters of Kirk's classic films such as Lonely Are the Brave and Spartacus.
An Unbreakable Bond.
The scene these two men had slowly descended had become overwhelming for them both. So after years as Keith's only caretaker, Steve reached out to MPTF.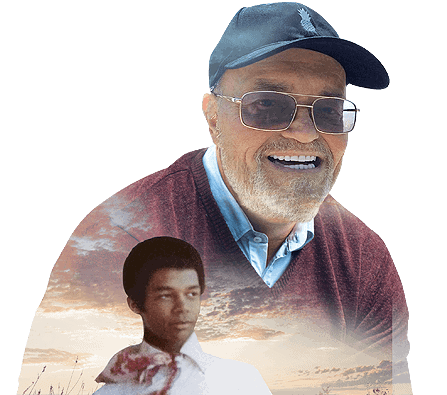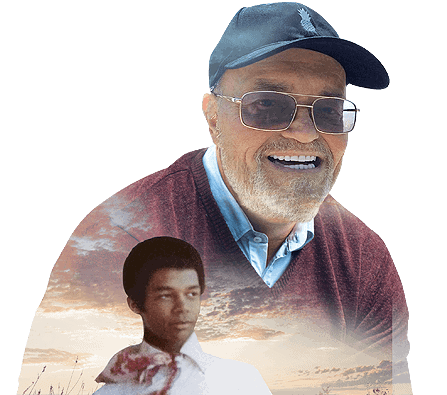 An Unbreakable Bond.
The scene these two men had slowly descended had become overwhelming for them both. So after years as Keith's only caretaker, Steve reached out to MPTF.
The facility was completely remodeled and upgraded in 2019, also in thanks to the very generous Douglas family, to the most advanced protocols where design and therapy thoughtfully go hand-in-hand. The space is made to feel as homelike and as not-institutional as possible. Four distinct "neighborhoods" are identified by a color, mural, and activity station at the center. The idea is that people develop a sense of community not only within the entire unit, but within their own neighborhood. Nurses' stations are tucked out of sight behind walls and doors to make the space feel even less institutional– staff members walk the floor with tablets to do their work.
Residents live in both private and semi-private rooms with common areas filled with Hollywood memorabilia to promote socialization and provide an enriching atmosphere for family visits. Individuals with dementia benefit by the freedom to wander at will, so Harry's Haven provides encouragement to walk freely within the entire secure space. There's also a beautiful enclosed garden where residents can enjoy the fresh air and watch the parakeets sing in the aviary for environmental therapy.
Alzheimer's and other dementia-related conditions are marked by forgetfulness, confusion, mood swings, and difficulty in expressing thoughts. Early detection and evaluations are conducted by our multidisciplinary team, which develops personalized care plans for each of our residents. The staff is trained to create and supervise daily activities that promote physical, mental, and social wellbeing. Harry's Haven is designed especially to stimulate and engage this special audience, and provide help to nurture the highest quality of life for individuals in our care.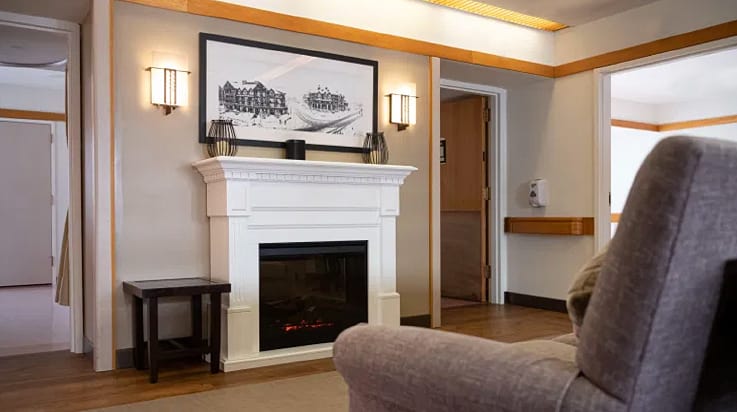 A warm and inviting space that offers cozy nooks to relax or chat with friends.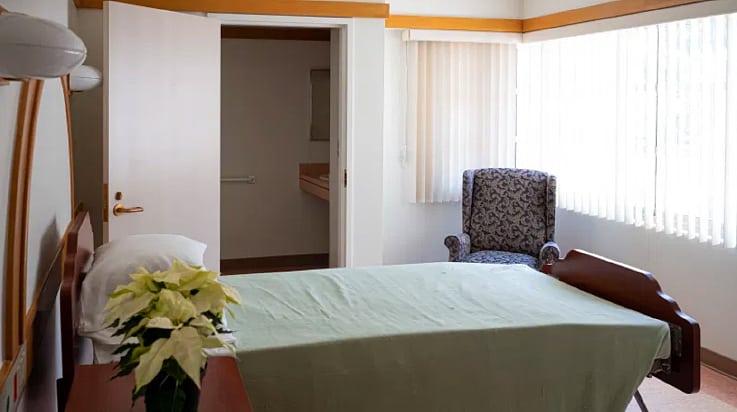 Rooms are bright and spacious with en-suite, private bathroom facilities.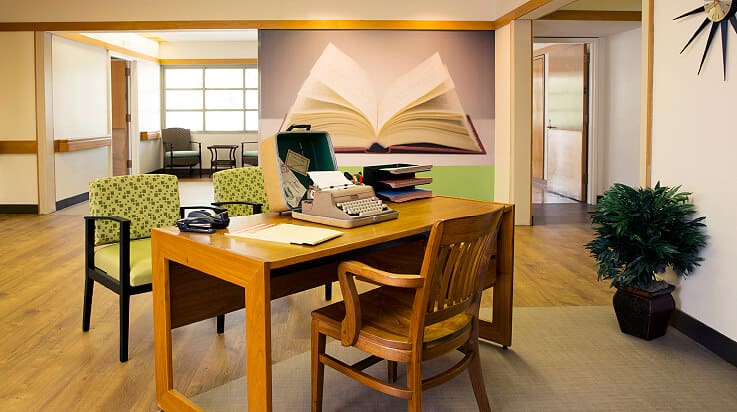 A variety of lively scenes and thoughtful creative activities make Harry's Haven a thought leader in the space.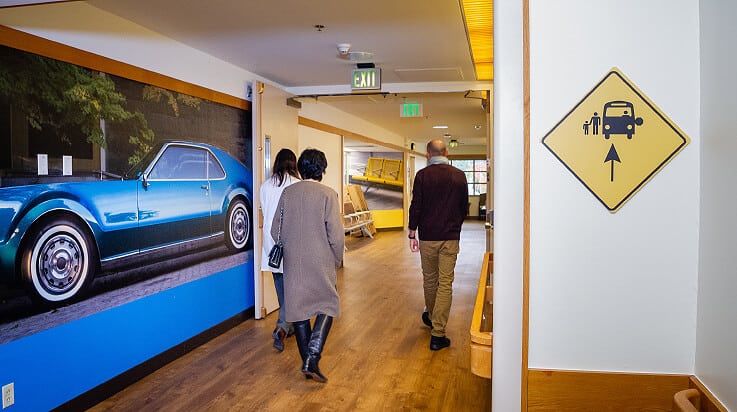 Marilyn and Jeffrey Katzenberg tour the facility at the grand opening, where bright murals act as wayfinding for residents.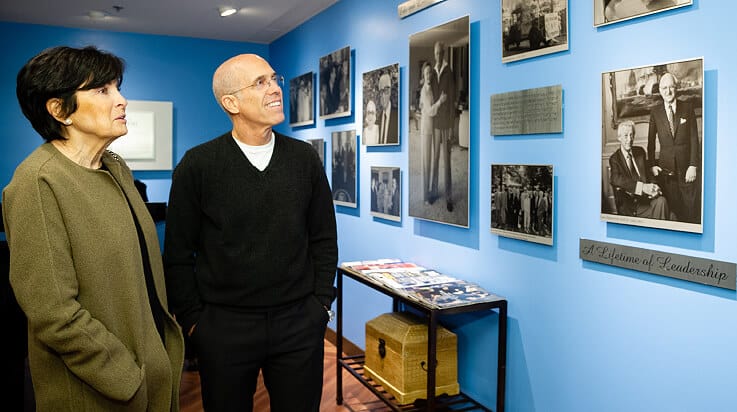 Jeffrey Katzenberg, member of the Board of Directors and Chairman of the Board of Governors studying the legacy of MPTF supporters.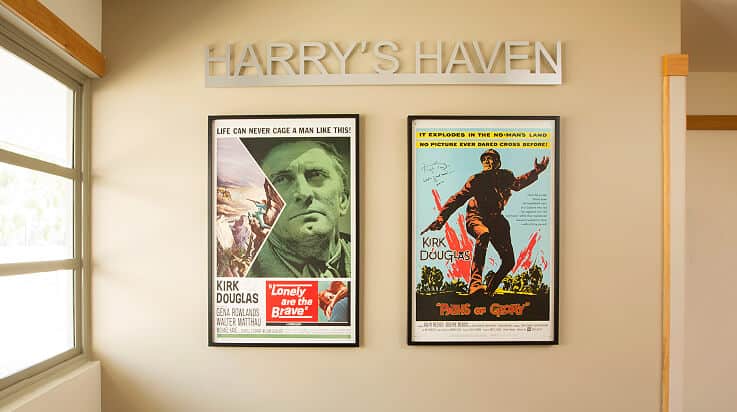 A bright and airy space filled with Hollywood's ephemera and reminders of an industry many worked their lives to support.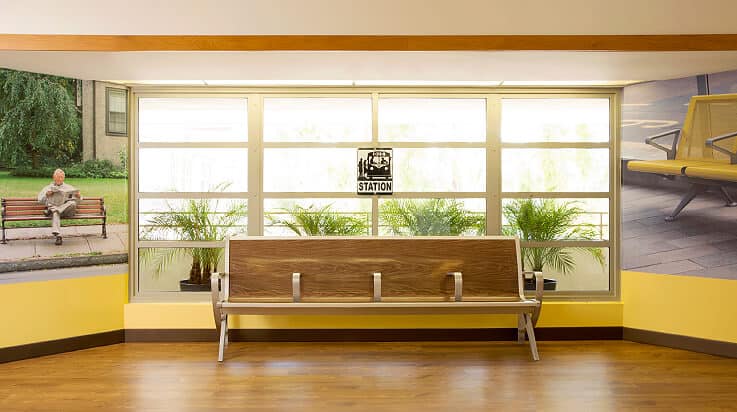 Harry's Haven offers comfortable places to sit, plentiful space to roam, and a multitude of ways to engage with the space.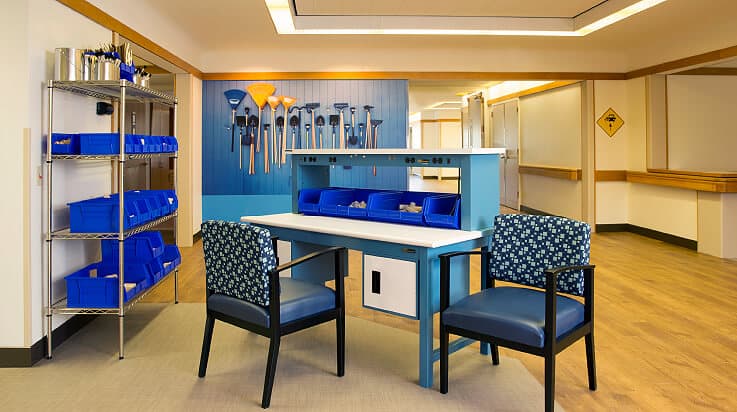 Activities and learning new skills or adopting a new hobby may have short and long-term benefits for brain health.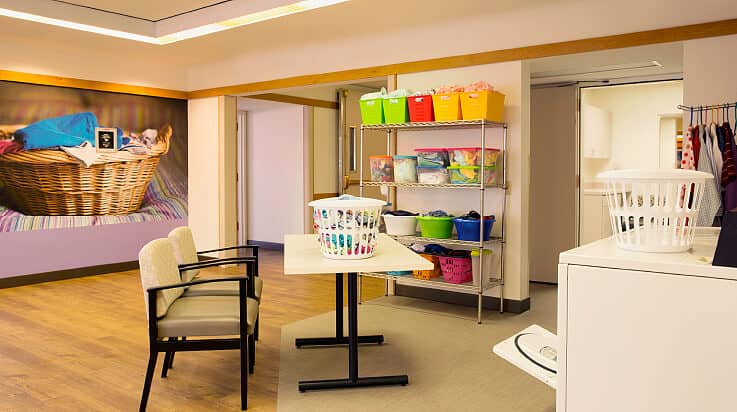 For many, folding laundry is a way to care for family. Activities like this can help calm the effects of Alzheimer's.
Private and semi-private rooms
Activity rooms
Community outdoor garden and enclosed area with birds and flowers
Various activity centers throughout the unit
Spacious lounges for gathering
Dining areas
Meals and snacks based on food preferences and nutritional needs
Assistance with bathing, dressing, feeding, and hygiene
Medication management
All utilities including basic cable TV and basic telephone services
Daily housekeeping
Scheduled local transportation to appointments
Planned entertainment activities and trips
24 hour nursing staff presence
24 hour security on campus with security guard at front gate
Louis B. Mayer Theater 250-seat theater showing first-run films
Acres of walking paths with manicured lawns, gardens, and koi pond
State of the art gym facilities with Jodie Foster Aquatic Pavilion
Options for swimming and exercise classes
Buses with drivers for planned trips to nearby towns, events, theater, appointments and activities
Chapel for non-denominational services
Pharmacy
Clothing and accessories boutique
Hair salon services
For anyone considering Harry's Haven memory care facilities for a friend or family member, please call social services intake line at 323 634 3866. A friendly social worker can offer pricing information, schedule a personal tour, answer any questions, and add a name to the waiting list.