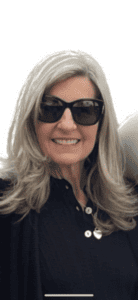 "Every card is unique; I never make the same one twice!" That's how Anne Star describes her monthly Angel Cards made for MPTF residents, one of the many ways volunteers can give back from their own homes. These cards can be made for birthdays and holidays, and the personal touch they provide is priceless. Using calligraphy and creative collage elements, she spends 10 to 20 minutes per card with gorgeous results over the past three years. Anne has been associated with MPTF even longer though since she volunteered at the gym in the Saban Center as a certified trainer with several clients. When the pandemic hit, she found another way to contribute, using her artistic abilities honed through making her own cards for fun. "It's a labor of love," she says, "and I would like every resident to feel special on their birthday."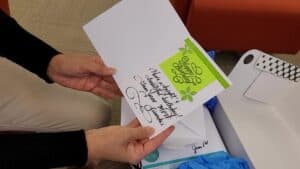 A resident in Calabasas with her husband, she's also found a new way to enliven our campus: English tea! In June of 2023 she gave a class about the tradition of afternoon tea (with demos, of course), which isn't "boring or stuffy. It's more dishy how it started with a duchess eating snacks privately in her room. Plus there's the history of the women's movement tied in, how it allowed them to go out without an escort. Usually around 4 they wanted something to eat, so English tea was an outgrowth of that and it caught on. It gave women some control as well, having freedom to plan and make a statement. Also, it isn't high tea – that's a 6pm buffet dinner served on a table. Afternoon tea is on a low table, like a coffee table; so these hotels keep calling it the wrong thing!
Anne previously was a Buyer for Neiman Marcus and lived and worked for them in Dallas, Chicago, NYC, and London. Anne is also in her 12th year as President of the Pete Brown Junior Tennis and Academic Program, which supports underserved inner-city children (mostly around the Compton area) and has helped them with a 95% success rate going on to college. Thank you, Anne, for all you do!