When we say MPTF is "taking care of our own," that includes all generations in the entertainment industry.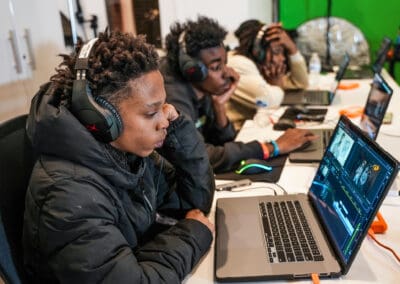 Our newest initiative is Passing the Torch, a mentorship program bringing attention to two issues that broadly impact our entertainment community: diversity and ageism. By joining retired industry professionals with a focus on young people from underrepresented communities, the program will "leverage a lifetime of workplace knowledge of retirees to increase awareness of a wide range of career opportunities by mentoring students who might not have access to that information" says Fredda Johnson, MPTF's Director of Engagement. "The program will increase the health and well-being of program participants, reduce ageism across the spectrum, empower students who will benefit from having a mentor who can offer judgement-fee guidance, and strengthen the overall community through supportive intergenerational connections."
Our first pilot was at SoLa Studios Film Production Program, that trains and inspires the next generation of entertainment leaders from South Los Angeles, with a panel discussion led by retired first assistant director John Poer and production coordinator and IATSE Local 871 member Lois Walker. The experience earned earned positive responses from the students with one 10th grader, Sarah, saying that "Having the chance to learn from retired professionals in the filmmaking industry was really beneficial." Added another 10th grader, Nya: "They explained both the good and bad of working in the film industry and ways they coped with it. They gave very detailed and useful descriptions about the jobs they did in the industry and had very important and useful information." 7th grader, Taj, summed it up: "I think it's a great thing to have pros like John and Lois talk with us. They said pne of the ups to being a filmmaker is the people you meet and the places you go, and a down is how many hours you have to work and how it affects your outside life. But they kept it real with us and left out no details." 100% of the students surveyed saw the value in being mentored by a retiree, and a second panel was just held at Notre Dame High School. We're just getting started.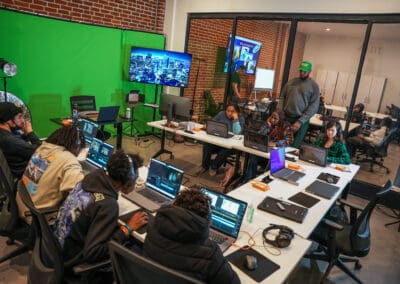 Seen above with a student, SoLa head Adam Steel felt enriched by the experience, noting, ""I greatly appreciate the opportunity for my students to connect and engage with the incredible community at MPTF. The experience with the team and their members has been extremely rewarding for my students as it provides a unique and personal insight into different aspects of the production industry they didn't have before. Our partnership has created a unique space where my students can openly ask questions to amazing members like John and Lois as they begin thinking about their own careers and what it takes to be successful. I look forward to continuing our partnership, supporting the positive growth of my students, and creating a strong community of connection between the generations."
As a mentor, Walker was enthusiastic as well and expressed, "Even at this young age, their enthusiasm for TV and film production was evident! Some of them were very clear on what career path they wanted to pursue; others were interested in hearing about the various positions in production. Their questions ranged from how someone can get a start in this business, to how to handle 'difficult' personalities and how to deal with stress while working on various productions. It is so gratifying to share my experience with these kids and to see how eager they are to learn. To be able to pass the torch to the future generation of producers, directors, writers, and crew is so rewarding. I look forward to participating again in the future." To find out how you can get involved, contact fredda.johnson@mptf.com.