Health Centers
Six UCLA Health Centers in LA dedicated for industry members
UCLA Health operates six MPTF health care centers in Los Angeles, conveniently located near studios and other industry locations. Patients also have the UCLA Health Network as a robust health care resource and care provider. No matter which health center you visit, you will receive top quality care from a dedicated team of highly skilled physicians, nurses, and other health care practitioners.
MPTF and UCLA Health working together means the doctors you've counted on for years can now also offer you the renowned resources of UCLA Health for specialty care and inpatient services. As part of UCLA Health, your MPTF doctors and staff can put this world-changing medicine and research to work for you. Many of the MPTF doctors are now also on the faculty at the David Geffen School of Medicine at UCLA.
THE MOST ADVANCED MEDICAL CARE
For more than half a century, UCLA Health has provided the best in healthcare and the latest in medical discovery for the people of Los Angeles and the world.
Recognized as one of the nation's top medical centers and "Best in the West" by U.S. News and World Report, UCLA offers unmatched resources
These include the Ronald Reagan UCLA Medical Center, Mattel Children's Hospital UCLA, the Resnick Neuropsychiatric Hospital at UCLA, UCLA Medical Center, Santa Monica, and more than 150 primary care and specialty care offices throughout Southern California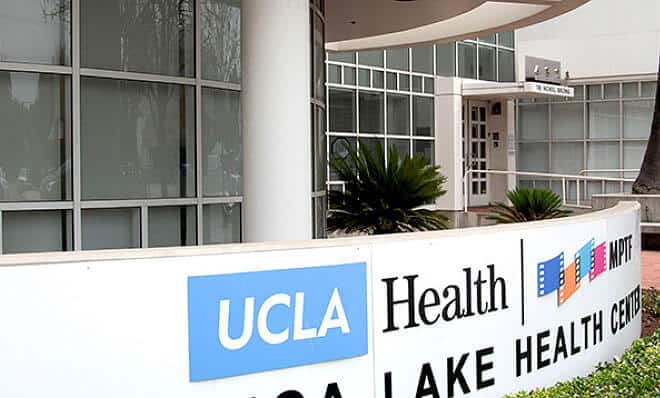 "Keeping your body healthy is an expression of gratitude to the whole cosmos—the trees, the clouds, everything."
The six health offices include:
Calabasas Health Center
Westside Health Center
Toluca Lake Health Center
Santa Clarita Health Center
Bob Hope Health Center
Age Well Program in Woodland Hills
UCLA Health also offers outpatient physical therapy and rehabilitation services with similarly convenient locations all over Los Angeles. As part of the entertainment industry, you can enjoy custom-tailored benefits.
Extended hours and weekend and holiday appointments at our health centers
Our schedules work around yours because we know your work hours aren't always 9 to 5
WELLNESS AND AGE WELL PROGRAM
UCLA Health also offer a Wellness Program (100% covered for Motion Picture Industry Pension and Health Plan members) featuring education in CPR and first aid to lifestyle enhancement programs on nutrition and stress management. You'll emerge with a healthier outlook and new skills to reduce stress and anxiety. If you have benefits through another guild or employer, you are still welcome to participate for a nominal fee. Our Age Well program, a pathway to health for older people, offers comprehensive assessment, care coordination, and ongoing support for seniors in their own homes.
To qualify for these services:
Be currently working in entertainment
Have worked in the industry in the last three years
Or be retired from a career in the industry
You also qualify if you are no longer in the industry but have visited one of our doctors at our locations within the last three years
Proof of work history sometimes needs to be provided in the form of a paycheck stub (not just union or guild membership)
You must be 13 years or old; parents of industry members also qualify
Pediatric referrals are available