Taking Care
Of Our Own

It's Why MPTF Is Here
Support Our Emergency Relief Efforts
"Taking care of our own," an idea that drives the mission of MPTF, began when Hollywood legend Mary Pickford, one of our founders, received the first $1000 to distribute to crew members on September 22, 1921. From providing financial assistance when work suddenly shuts down, to help navigating health insurance, to taking care of the retired members of our industry, MPTF's team of social and essential workers are here to help.
Today the industry is facing one of the most challenging years in its history, with below- the-line crew members bearing the financial and emotional brunt of the strikes and work stoppage. Your support has been, and will continue to be, instrumental in keeping our services alive and thriving for our community.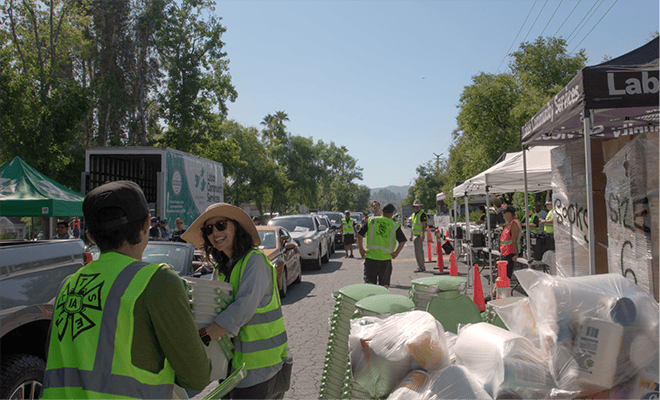 Summer 2023 Food Drive on MPTF's
Wasserman Campus serving those
affected by the work stoppage
8,500+

industry members since the

beginning of the year

500-1,000

weekly intake phone calls

90%

of calls are requests for financial assistance and 80% are from our crew community


$3.5 million+

financial assistance provided so far this year

People are in danger of losing their homes, cars, the ability to pay utility and medical bills, and so much more. Any amount you can give makes a difference and we are leaning on you to help us. Thanks to generous support, all gifts will be matched up to $250,000. Your commitment to MPTF allows this vital 102-year-old organization to continue taking care of our own. Whether contributing $25 or $2,500, your gift will be used to help provide care and services to those in need.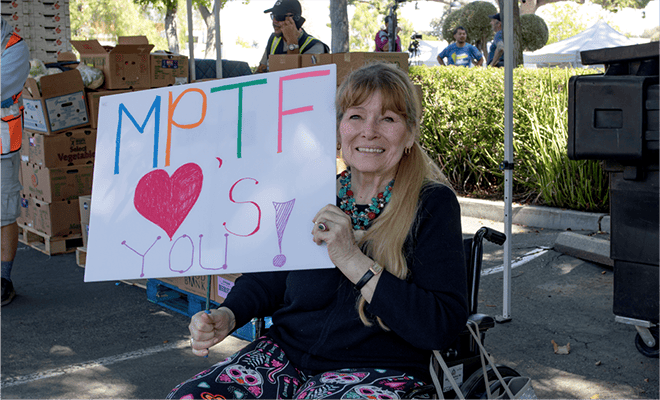 MPTF Resident, Christina Galante showing her support for IATSE and Teamsters during the Summer 2023 Food Drive